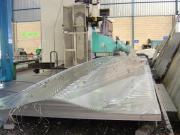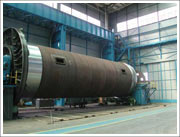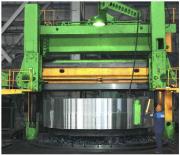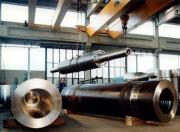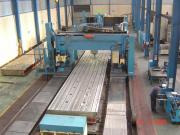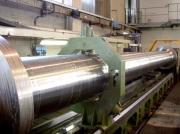 Turning/ Large Dimension Reaming/ Drilling
Specialising in general mechanical engineering and mechanical construction, our company has the capability for machining parts of very large dimensions and/or very heavy weight, on products supplied to us or as a complete service.
 
Construction and work on large iron and steel plant, presses, shears, mills.

The factory has fine CNC parallel lathes to a  maximum of 3000 x 19000 (mm);

CNC vertical lathes to a maximum of 5200 x 2700 (mm);

CNC reamer to a maximum of 8000 x 2700 (mm).
 
Reamer of 175, 180, 225 mm, travel 20,000 x 6,000 h, planer 2,400 x 7,000.
 
Vertical lathes with diameter of 4,000, 5,000, 7,000 and 12,000 x 5,200 height, CNC parallel lathes with maximum of 6000 x 19000 (mm);

Hoisting up to 120 t.

Drilling

European leader in the field of deep drilling. We offer axial drilling of diameters from 20 to 600 x 12,000 m, reaming on diameters of 100 to 1,000 x 15,000 mm,
on diameters of 60 to 1,000 x 15,000 mm, external diameters with dimensions from 30 to 2,600 mm, weight up to 100 tons. 

Continuous research, constant new experimentation, equipment, technique and dedication have made the company a benchmark for reaming and outsourced drilling permits perfect management of mass-production work.